Smash the cake à Macon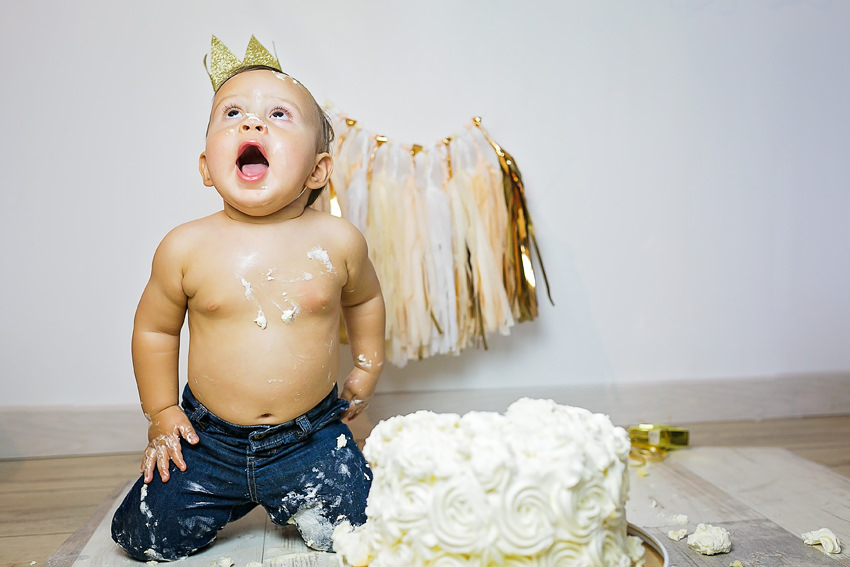 Smash the cake à Macon
Quand Sohan est arrivé au studio, il n'est pas venu les mains vides. Il avait avec lui ses parents, ses grands-parents, un ballon plus grand que lui et un superbe gâteau des Cupcakes d'Emilie à Chalon. Bref, Sohan venait fêter son premier anniversaire au studio Mollygraphy. Et pour l'occasion, nous lui avons fait une séance smash the cake à Macon. Quezako? Pour les novices, c'est une séance vraiment fun ou l'enfant s'éclate à « détruire » un gâteau spécialement crée pour l'occasion. On fait généralement les séances photos du smash the cake pour le premier anniversaire de l'enfant.
C'est l'occasion de fêter dignement cette étape importante et il faut avouer que le bébé s'éclate. D'abord surpris d'être autorisé à taper dans un gâteau énorme il prend vite le pli et prend un vrai plaisir à cette activité hyper ludique. Les encouragements enthousiastes des parents (et dans le cas de Sohan des grands-parents) y sont forcément pour quelque chose.
Une séance smash the cake est forcément rapide, alors on démarre toujours par quelques clichés du birthday boy. Et, parce que Sohan y aura vraiment mis du sien, j'ai adoré cette première partie. Il aura posé comme un pro puis fait le beau gosse en mettant debout juste pour la séance. Puis nous avons présenté le gâteau. D'abord septique, il s'est vite éclaté aussi bien à manger qu'à étaler le gâteau de partout. Je crois qu'on au tous ris devant ses mimiques tantôt sérieuses tantôt craquantes. Le soir, Sohan fêtait son anniversaire en famille et il en a profité pour faire ses premiers pas…
Vous souhaitez une façon originale et ludique de garder des souvenirs du premier anniversaire de votre enfant? Réservez une séance smash the cake à macon. Pour cela, rien de plus facile, contactez-moi, la séance est à partir de 250€.